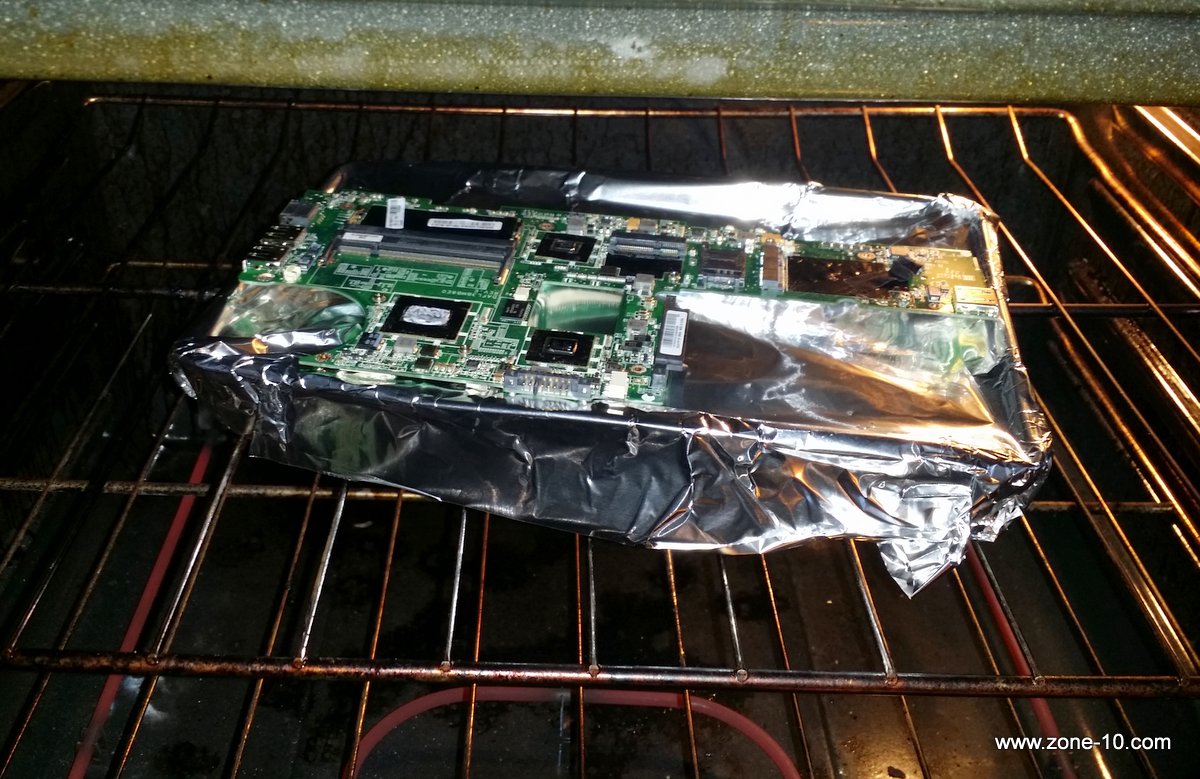 A common problem with many laptop computers is that they run very hot. The heat/cold cycles of using the computer and the stresses of movement will cause the solder connections to crack or break between the componants and the circuit board. This will cause intermittent failures and eventually a full failure of the device. This is also a common problem with high-performance video cards.
A solution is to bake the circuit board. Remove it from the case, disconnecting all the removable parts, such as hard-drives, memory cards and cooling fans. Especially make sure you remove the cooling fans. Do not bake them as it will cause spindle failure as the lubricant will fail.
Turn the oven on to 385 degrees Fahrenheit (196 degrees Centigrade). This temperature is in the middle of the range for the melting point of the solders used in the attachment of surface mount componants. In fact, many of these are using very low temperature solders which are not much more than metallic adhesives. Other componants are held on with higher temperature solders in places that run hot. 385 degrees is not an exact temperature to aim for, but is close enough to do the job, without damaging or burning things up.
While the oven is preheating (make sure it is warmed up and stable BEFORE placing the parts inside), prepare a cake pan and place a sheet of aluminum foil across it. Lay the circuit board onto the aluminum foil, making sure that it doesn't sag or bow. You can use little balls of aluminum foil to prop it up or hold it away from the sheet. Why the cake pan with suspended aluminum foil? As the oven cycles the heating element, this creates a thermal cushion between the heat source and the componants.
Place the pan with the componants into the oven and set the timer between five and ten minutes. Depending on the size and thickness of the board, you'll judge the time accordingly. A small, thin circuit board will need only five minutes, but a thick, multi-layer motherboard will need to run a little longer. Regardless, DO NOT exceeed 10 minutes, as this will cause the solder to run and you'll have all new sets of problems on your hands. Let the pan and parts cool to room temperature and reinstall.
A side benefit and additional application of baking is to address issues with tin whiskers. The heating of the solder will melt any existing whiskers and does a quick annealing of the solder surface which should delay any further whisker growth for a while.
While baking is not a "cure-all", and does have risk of further destruction of the device being repaired, if the device is already non-functional, it is a low-cost solution that may work.
The picture is of the motherboard from a Lenovo Thinkpad X100e, which is known for it's extremely hot operation and failure of the solder joints.